Antiviral and Anti-Bacterial supply available.
This sanitiser is a high-performance hand sanitiser is suitable for normal use on the hands being kinder on the skin whilst also eradicating 99.99% of viruses. Surface disinfectant is also available at this grade.
A high performance hand sanitizer solution that is suitable for general use on the hands, to remove potentially harmful infectious bacteria. Surface disinfectant at this grade is also available.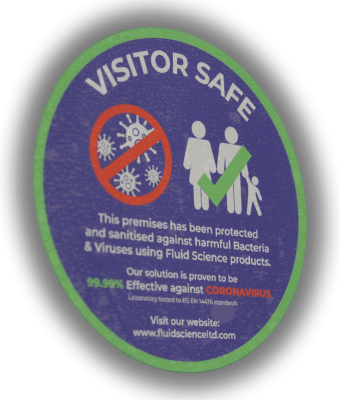 Safe Sticker Accreditiation
Put your customers at ease by displaying the Fluid Science approved sticker on your premises, confirming the area has been fully disinfected to eradicate 99.99% of viruses, including new strains of Coronavirus.
The sticker comes with all purchases of Fluid Science sanitiser products. Anything from the GoFog range, to Fogging Machines, Hand Sanitiser and Surface Disinfectant. You will be able to reassure your employees and customers of a safe environment.
Our antiviral solution is not only more effective, it is also a lot safer compared to other alcohol products.
Anti-microbial active substance.
Effective against a wide spectrum of bacteria and viruses. Minimises environmental impact compared to other solutions through its readily biodegradable, low toxicity, eco-benign formulae.
Alcohol

vs

Alcohol-Free

Sanitiser
Better for the Environment
How do you apply our Hand Sanitiser?
Take a look at some of our highly satisfied customers.
Instant credit accounts and discounts available for:
Schools, Local Authorities and the National Health Service (NHS).
A range of sizes suited to your requirements.
Ready to take the next step?
Download your free brochure!
The production of our Sanitiser adheres to strict quality control measurements. We can safely guarantee the highest grade sanitizer, we are the specialists in liquid solutions with over 20 years industry experience.
We offer an unparalleled customer service experience. If you ever need more information or have an enquiry about an order, we have a active LiveChat service, or you can give us a call 9am-5pm Monday to Friday.
We understand that business is always moving fast, so you may need your deionised water urgently. We offer a Next Day Delivery service, if you place your order before 12pm on a working day.