Anti-Bacterial Hand Sanitiser
This high performance hand sanitizer solution is suitable for general use on the hands, to remove potentially harmful infectious bacteria. The multi-surfactant combination ensures highly effective sanitization, including a natural scale control package that is effective at reducing scales associated with hard water. The solution contains a natural anti-microbial active ingredient found in many foods, and minimises environmental impact through its readily biodegradable, low toxicity, eco-benign formulae.
This

non-alcoholic solution

is closely matched to the natural pH level of the skin,

meaning your hands feel softer and reduces "dry skin"

caused by other alcohol based hand sanitizers.
This product contains no Quaternary ammonium salts, and is manufactured in accordance with recognised international standards, ISO 9001 and ISO 14001, ensuring the consistent quality of this solution.
EasyFlow Tap Cap
For the maximum convenience, choose the EasyFlow Tap Cap when ordering 25 Litres of Anti-Bacterial Hand Sanitiser. This will save you time and waste product, in turn saving you money.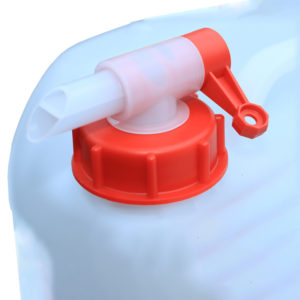 Further information
Log Percent Reduction Key
> Log5 = 99.999% Eradicated.
EN1500 Certification pending
Due to the current COVID-19 outbreak, testing labs have suspended EN1500 certification due to staffing.
Our product is awaiting conformation and we are confident in its successful accreditation to the EN1500 standard; as in the comparative EN1276 Test our product scored 99.999% (Log 5) biocidal activity (kill rate) vs the comparable E. Coli bacteria. EN1500 requires a minimum biocidal activity performance of only 99.9% (Log 3) vs the comparable E. Coli bacteria.
Minimal Anti-Bacterial solution risk, no harm when in contact with the skin. Lactic Acid remains effective at low concentrations. For use with hands only.