UK Leading Pure Water Suppliers.
Deionised Water, Distilled Water, Demineralised Water.

Deionised or Deionized water (often referred to as DI water or de-ionised water) pretty much explains the type of water in the name. It is water that has had most of its mineral ions removed, such as cations like sodium, calcium, iron, and copper, with anions such as chloride and sulfate also being removed in the process. 
Demineralised or Demineralized water is a term often used in parallel to Deionized water, meaning it is water that essentially had all minerals found in natural water removed. The water is manufactured in a chemical process, using our on site Reverse Osmosis purification system. Read more about the process below.
Distilled water is produced through the process of distillation. This involves boiling the water into vapour, then condensing it back to liquid into a sterilised storage container. The impurities that do not boil into the vapour will remain in the original container, which yields a exceptionally high purity of water.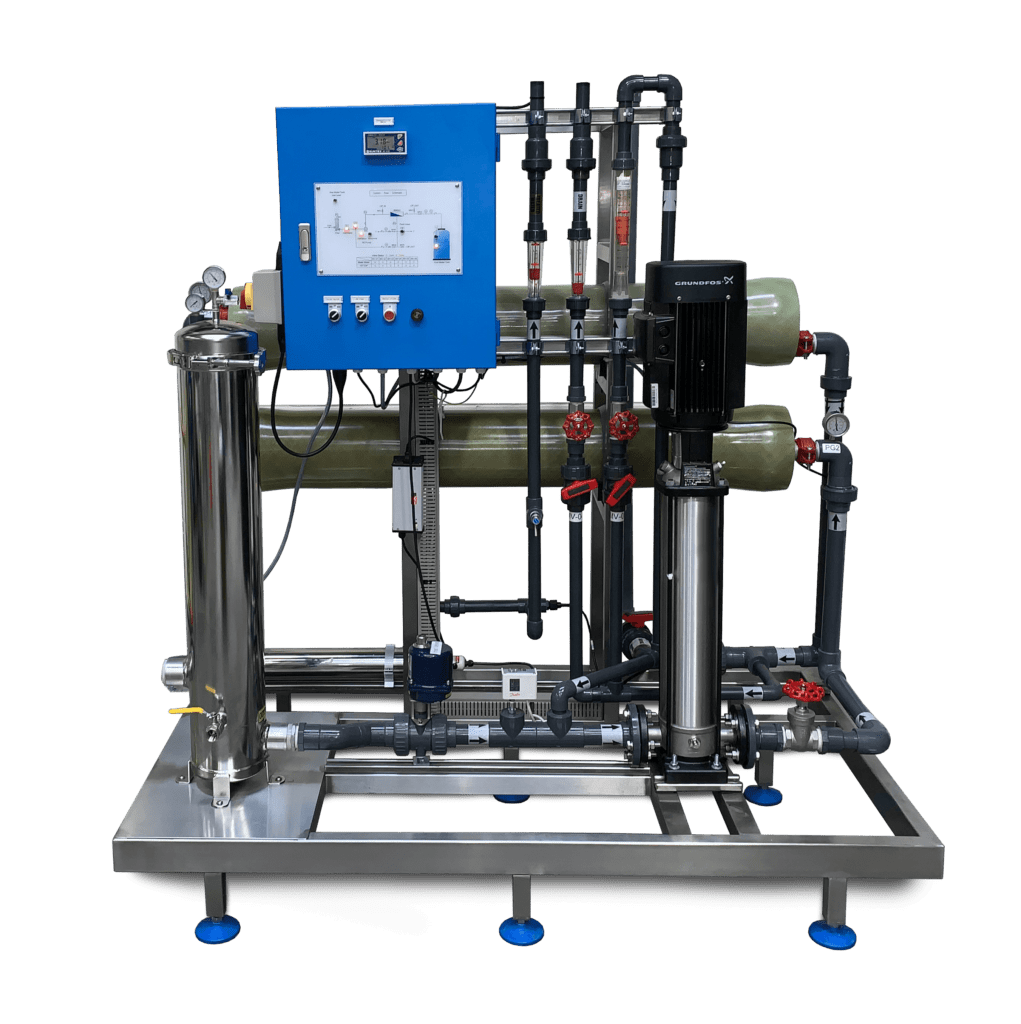 Using our on site range of unique Reverse Osmosis purification systems, our water is first put through a process of removing organic matter. Once that is complete, it then passes through a mixed bed deionising resin, which removes the cation and anion impurities that are mentioned above. 
The maximum level of impurities now is typically <1 microsiemens (μS). To complete the purification process, the water is finally passed through UV sterilisation, and then through a 0.2 micron filter. 
Better than EP Grade Standard
Our RO System produces pure water to <0.5μS consistently, meaning our highly purified water easily meets the worldwide recognised EP Grade Standard.
What grade do you require?
Tanker Delivery Available
Fluid Science offers Tanker Delivery on large volume water deliveries.
Contact one of our customer service representatives on live chat, or give us a call on 01244 506 860.
Why Choose Fluid Science?
Fluid Science draws on over 20 years of experience in generating and supplying purified Deionised Water. Our sales and support team can tailor orders to meet a wide range of requirements and water grade specifications. All our water is produced specifically for the purpose of providing our clients with a superior quality water supply, and not as a by product of an industrial process. 
Take a look at some of our highly satisfied customers.
The production of our Demineralised Water adheres to strict quality control measurements. We can safely guarantee the highest quality water, due to our state of the art RO water generator.
We offer an unparalleled customer service experience. If you ever need more information or have an enquiry about an order, we have a active LiveChat service, or you can give us a call 9am-5pm Monday to Friday.
We understand that business is always moving fast, so you may need your deionised water urgently. We offer a Next Day Delivery service, if you place your order before 12pm on a working day. 
If you need more information about our products or an order, give us a call.