What is

Anti-Freeze Coolant

?
Antifreeze Coolant is a mixture of deionised water with a base product usually either ethylene or propylene glycol. The dual-purpose nature of Antifreeze Coolant decreases the freezing point of liquid in a cooling system and increases the boiling temperature.
Our Antifreeze solution keeps cooling systems running by eliminating the potential of icy build up during cold weather conditions, as well as a Coolant solution that prevents any over-heating issues.
Automotive Grade Antifreeze Coolant features a specialised inhibitor to protect system metals from corrosion.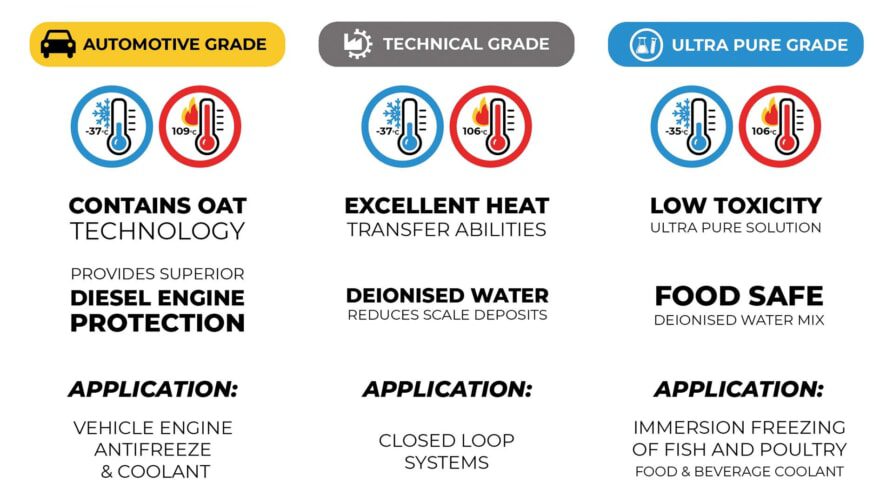 Propylene Glycol vs Ethylene
Propylene glycol has very low toxicity enabling it for use in cosmetics and personal care products. However, Ethylene has a higher toxicity level and must be handled with caution to restrict any human or animal exposure to a poisonous substance.
Nevertheless, in closed loop systems where risk of contact with food is minimal, Ethylene is ideal with excellent heat transfer properties due to lower viscosity. Ethylene is one of the most preferred base fluids across the world due to the cost-effectiveness and its ability to be used in all climatic conditions. It is ideal for use in automotive engine coolant and also in many industrial cooling applications.
Propylene Glycol is therefore most beneficial in scenarios with human or animal contact points, especially in food manufacturing.
OAT (Organic Acid Technology) for Antifreeze Coolant
OAT technology is proposed to grow significantly this decade. The solution is based predominantly on carbon-based molecules, typically organic acids, that protect cooling system components. This particular technology has up to 5 years lifespan or around 155,000 miles in automotive applications. OAT is generally safe to use in both aluminium engines and rubber parts.